Kodiak Black Bear Hunts
Self-guided Black Bear Hunt /Fishing trip
Dates: (May 1 – June 15), (Aug 1-Sept 30)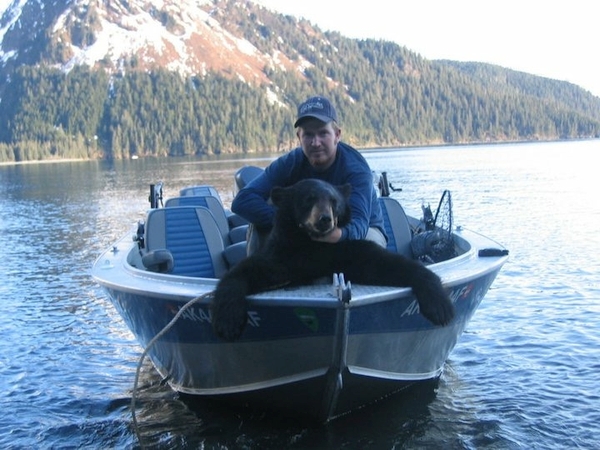 Occupancy: Max 5 hunters (no mixed groups)
Duration: 5 days, 4 nights.
Trip Price: $12,000.00 ($2400 per a person if divided by 5 hunters)
**7.5% sales tax not included.
Other Fees:
$230.00 – Non-resident hunting license / 7 day fishing license
$450.00 – Black Bear tag
Included: Transportation, lodging, meals and all fishing gear/bait.
Pick-up: Homer Harbor 9:00am, Day 1.
Drop-off: Homer Harbor 6:00 pm, Day 5.
Your hunting/fishing can start as soon as you leave the Homer Harbor and will end when you re-enter the harbor on day 5. Black bears are in good numbers on the Kenai Peninsula and can be seen anywhere, anytime. You will be staying aboard the Kingpin, our 43' Delta Marine fishing vessel. Cozy bunks, hot showers and great food await you. Maybe only a few guys want to hunt and the rest just want to fish. No problem. We are professional fishing guides and can guide you to trophy halibut, rockfish, and possibly king salmon if thats what you would like.
There are annual fish limits and possession limits that apply so you will not be able to keep a 5 day limit.
Not Included:
Hunting/ Fishing License/ black bear tag
King Salmon stamp
Vacuum Sealing
Alcoholic beverages
Rifle/ ammo
Hunting gear of any kind
NON- RESIDENT hunters are allowed to take 1 black bear of either sex
RESIDENT hunters are allowed to take 3 black bears of either sex
Black bear cubs, or sows with cubs, are NOT allowed to be harvested
Before June 1st, all black bear meat MUST be taken from the field
Black bear hides and skulls must be sealed by the Alaska Dept. of Fis0h and Game within 30 days of kill.
Evidence of sex MUST be naturally attached to the hide
Glacier bears (blue phase) bears are NOT allowed to be harvested

CALL 907-299-7498 FOR MORE INFORMATION